Just about every Zucchini Bread recipe I've tried has been pretty good but kept me looking for something more. Well, I think I finally created the ultimate basic Zucchini Bread recipe.
Most of the recipes I tried only called for 2 cups of shredded zucchini. I found one recipe that went as high as 3 cups. My recipe calls for a whopping 4 cups of shredded zucchini!!!
The zucchini makes the bread more moist and flavorful.  As you can see in the picture below, my family has already eaten this bread down to almost half and I just made this 15 minutes ago.  I figured I'd better take a picture quick. 😀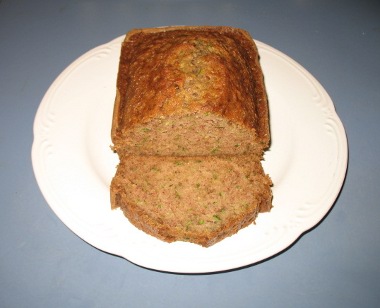 Alberta's Zucchini Bread Recipe (makes 2 loaves)
Ingredients:
4 eggs
2 c sugar
1 c  oil
3 tsp vanilla
2 tsp cinnamon
1/2 tsp nutmeg
1 tsp salt
2 tsp baking soda
3 c flour
4 c zucchini, shredded
Directions:
Preheat oven to 350°F. 
Mix all wet ingredients together and then mix in the dry ingredients.  Let sit for 10 minutes.
Grease and flour 2 loaf pans.
Add shredded zucchini to batter, then pour evenly into pans. 
Bake for 1 hour (60 minutes) or until toothpick inserted comes out clean.  Let cool for 10 minutes then remove from pan to cool completely on rack. 
I hope you like it as much as I do!!